2018-02-11
Living in Nishi-Ogikubo: What is it Like for Foreigners?
Nishi-Ogikubo was once a very opulent residential district in 60's on the Chuo line. Today, it still leads that charming appearance of a quaint area in Tokyo. The district is a world away when it comes to the bustling Kichijoji that is just a stop over. It has no business with Starbucks, cinemas or big malls, but home to lively gig spots, quirky antique shops, upscale residential homes, and cozy curry cafes.
For what Nishi-Ogikubo lacks, it makes up as a haven for independent and local businesses. There are neighbouring stations like Kichijoji, Asagaya and Koenji, known for their eclectic lifestyle, restaurants, music and art that seem to have overshadowed this beautiful town.
The neighborhood is home to great nightlife and scrumptious meals just like other stops along the JR Chuo Line. You will love the laid-back nature of the area in addition to its diligent business atmosphere. If you are business minded, Nishi-Ogikubo will strongly appeal to you with its many business ideas.
Nishi-Ogikubo: The Small Business Haven in Tokyo
Thinking of starting a business or investment in Tokyo, but feel like you are not ready to struggle with others on the streets of Tokyo? Perhaps you should consider Nishi-Ogikubo, as it is quiet, conveniently located, and has become famed for its lucrative businesses.
Access:
From Tokyo Station, take JR Chuo Rapid Service to Nishi-Ogikubo (27 minutes)
From Shibuya Station, take Keio Inokashira Exp to Kichijoji to Nishi-Ogikubo (21 minutes)
From Shinjuku Station, take JR Chuo Rapid Service to Nishi-Ogikubo (19 minutes)
Famous Locations
Mizunosora
Mizunosora has become one of the favourite places to browse and relax in Nishi-Ogikubo. This gallery is located in a beautiful renovated building that once belonged to a family. These days, it hosts exhibitions monthly, and its café serves people tea and coffee.
Access:
Address: 〒167-0042 Tōkyō-to, Suginami-ku, Nishiogikita, 5 Chome−25
From Nishi Ogikubo Station, head out the north exit and continue on foot north for about 850 meters (approx. 11 minutes).
Café Orchestra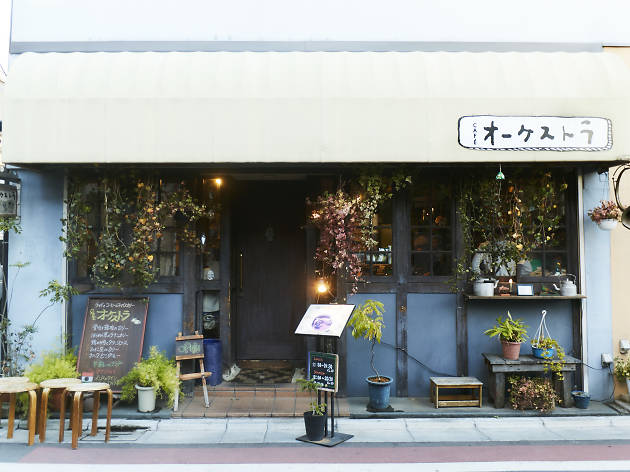 This curry shop is a three minute walk from the south exit of Nishi-Ogikubo Station. People come here for their meals at all times of the day. You can order keema matar- ground chicken and green peas, chicken curry, and many other Indian curries, to name a few items off the menu. However, the sag chicken, chicken curry and fresh spinach, is the star of this lovely cafe.
Access:
Address: 2-20-5 Nishiogi Minami, Suginami, Tokyo Prefecture
From Nishi Ogikubo Station, head out the south exit and continue south for about 400 meters (approx. 5 minutes).
Country Quilt Market
You will feel as if you are walking through a set of a 19th century movie scene when you come to the Country Quilt Market. It is situated across two floors with seemingly infinite amounts of ribbons, colorful fabrics and lace to satisfy all of your crafting needs. There are many things you can buy here as souvenir or gifts to friends and loved ones at home.
Access:
Address: 3 Chome-6-1 Nishiogiminami, Suginami, Tokyo, Japan
From Nishi Ogikubo Station, head out the south exit and travel by foot 350m (approx. 4 minutes).
Why Foreigners Live in Nishi-Ogikubo
Business Haven
If you are someone who is business oriented, you will surely fall in love with Nishi-Ogikubo. Independent business visitors come here to make excellent business deals yearly. Many foreigners live here because it gives them the opportunity to conduct their businesses without stiff competition. Affordability is also a keyword here, as most people living here are not considered to be part of the wealthy class. You will come to appreciate the affordability of items here compare to some parts of Tokyo where the same items can cost much more than you would like to pay.
Nishi-Ogikubo may not be a wealthy part of the city that houses numerous international brands, but it is a fertile ground for startup companies and veteran business alike.
Abundance of Food & Drinks
There are few places in Tokyo that will offer you delicious meals at the price you get from this lovely district. There are many places you can get drinks and food in a relaxed environment. If you love coffee shops, you may want to make this place your second home. Great cafés that will serve you tea and coffee at an affordable rate are plentiful here in Nishi-Ogikubo.
Japanese cuisine is prepared beautifully to entice you. If you are yet to taste the noodles, you will discover why people love it when you taste it. There are many places where you can eat in this place.
Security
No one wants to live in a town that has a lot of possible dangers surrounding it. Nishi-Ogikubo is a safe harbor for both visitors and residents. The district is calm and does not have challenges with security. The people here are law abiding citizens and there is orderliness throughout both the city streets and the station.
Conclusion:
Whether you are a tourist or a business person, Nishi-Ogikubo does not offer you less. There is something for everyone, no matter their calling. There are cafés, restaurants, luxury apartments, hotels and playgrounds for kids, making it a great potential home for anybody looking to live in Tokyo.
Here at SEKAI PROPERTY, we offer many properties for sale in Nishi-Ogikubo, so make sure to check them out by clicking the blue link below.
Click Here to View Nishi-Ogikubo Property for Sale
If you have any questions or would like to arrange a viewing, please feel free to contact us!